Complete photo libraries are available
Photo library pages for Saturday and Sunday are up. Lots of great shots!
Official results are available
Click here for official results of the DS, GS, STS, and STX classes.
Sunday's Racing Action
The short and simple answer is...I won! I managed to pull into the 31 second range, with a 31.9 on the right, and a 31.4 on the left. I actually matched times on the left course with the top DS Type R times. I pulled 2.7 seconds on the class, which gave me the top qualifying position for the Super Challange...and $125 from SCCA!
I was paired up with a Subaru Legacy GT for the first challenge round. He hit a cone on his first run, so I put in an easy run to get me through to the second round. I was paired with a Corvette ZO6 for the second round. He nipped me by 2 tenths the first run, then, I made a "slightly too quick" of a launch, redlighting by 0.011 of a second. Rats. Oh well, I still felt really good about the day's performance.
The other Subarus in the challenge never made it past the second round either, so I ended up being the top qualified Subie, earning me $500 from Subaru. I also got $150 from Kumho for the class win. Not too shabby for a days racing!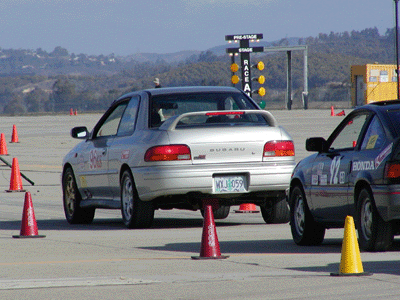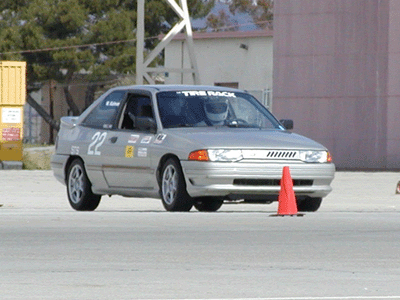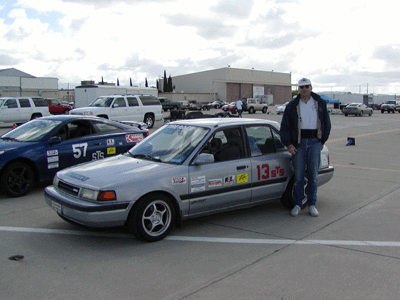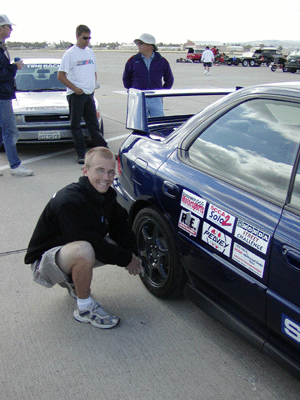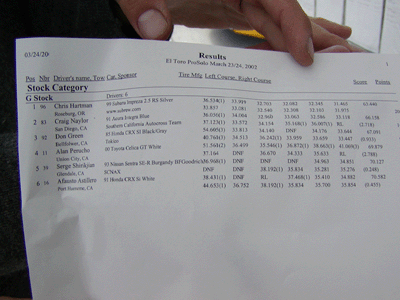 Saturday's Racing Action
It rained overnight, making the track wet on some sections, and merely damp on others. G-Stock ran in the first group, right behind four cars in H-Stock. First runs were crazy, with noone except me getting a clean first run. I hit a cone on the left side, but managed to clean it up on the second runs. After the first heat, I was sitting about half a second ahead of the Acura Integra. I felt like there was still more out there for me.
The course is amazingly fast. I am into 3rd gear before the first turn of the steering wheel! On the way "out", there are four very open slaloms, taken full throttle in 3rd gear, followed by a slightly slower series of two "boxes" before the tight turn around. Once again, about 100 feet out of the turn around, and I'm back into 3rd gear, full throttle through a couple funny gates, followed by a tricky offset slamom, before the full throttle shot through the finish.
Second heat runs were aided by a fully dry surface, with lots of rubber laid down from other cars. It was much faster, and the new Kumhos really gripped. I improved every run, and was excited to be in the low 32 seconds range each side. This was about a 1.5 second improvement each side. I'm just under a 1.75 seconds up on the Integra after today's competition.
If it rains again tonight, our morning runs tomorrow might be for "show" only, as it will prove difficult to lay down a quick run on the wet surface.

Results:
Driver			Car					Time

1. Chris Hartman	99 Subaru Impreza 2.5RS			64.3xx
2. Craig Naylor		91 Acura Integra			66.0xx
3. Don Green		85 Honda CRX Si				68.0xx
4. Alan Perucho		00 Toyota Celica GT			69.1xx
5.			90 Honda CRX Si				69.2xx
6.			92 Nissan Sentra SE-R			72.xxx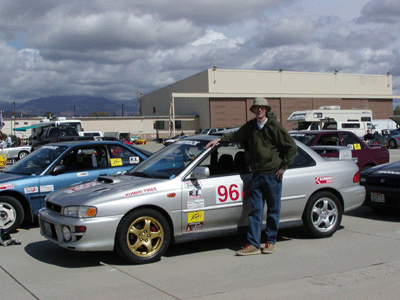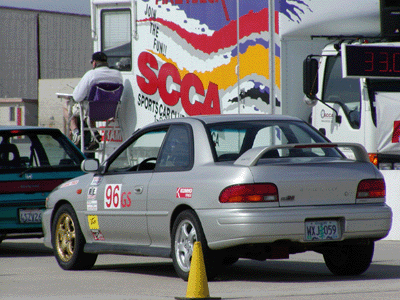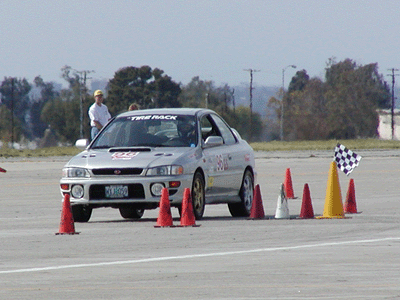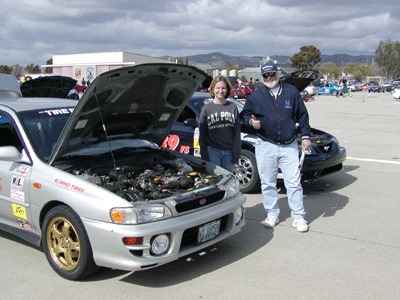 Travel and Practice Day
Thursday morning, I left Medford ugly early. Not much traffic to speak of, so I got down to San Luis Obispo by the early afternoon. I washed the bugs off the car, and then went to dinner with Maria at an awesome little Italian place downtown.
Friday morning, we headed south, and enjoyed beautiful, sunny weather as we snaked along the coast. We made it to the El Toro site just after lunch, and found a perfect parking spot next to Jim and Tami Daniels, fellow Oregon Region racers in their black Toyota MR2. I got registered and teched in just a few minutes. Maria was a big help this afternoon, taking charge of the magnets, and the digital camera.
I made six practice starts, to get used to the starting lights again. Due to the length of the course, our start included the first hundred feet or so, se we not only got our reaction time, but our 60-foot time as well. I made several solid starts in the .600 range, followed by a .532, followed by a perfect .500! Howard Duncan announced that if I had done that during tomorrow's competition, I would earn a $100! Maria was pretty excited about that! We hung out a little longer, managed to walk the course (we actually walked it before the practice starts) and get back to Redondo Beach, where my stepbrother Mark lives, before dark. A few photos can be found below: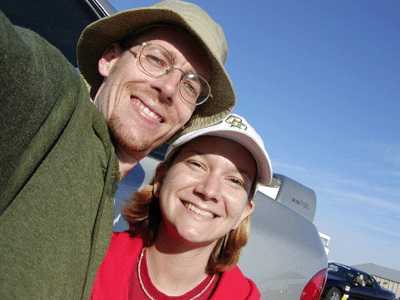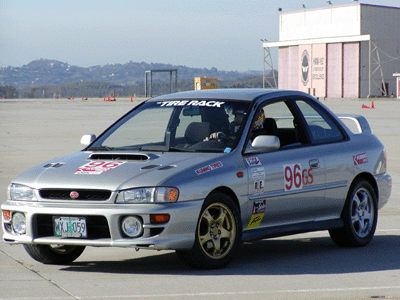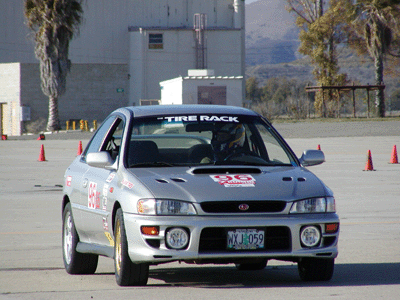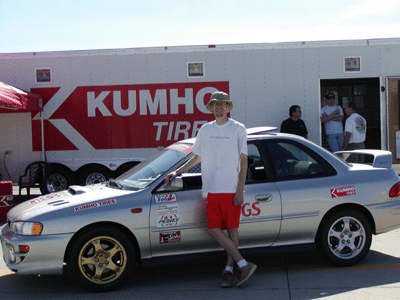 Preparation Day
The car is nearly packed! I'm only waiting to get my new Kumho Ecsta 700 tires mounted and balanced. I decided to get two of them, to run on the front, since I'm not sure they will fit on the back without rubbing against the strut. I'll be taking down four Victoracer 700 tires, with roughly half tread, so I'll alternate these on the back of the car. Needless to say, Mr. Subie is going to be packed!
I did not get the Ecstas shaved. I wanted to, so they would be performing at their best from the first run, however, I figured a few runs on the abrasive El Toro concrete surface will shave them down fine. If they don't seem to be performing well because of the full tread depth, I can always throw a pair of the Victos on the front for Sundays runs. A few photos of the tires can be found below.
I plan on heading to my parents house (Medford, OR) Wednesday night, giving me a 2 hour head start, I'm stopping off in San Luis Obispo, CA Thursday night, and staying with my girlfriend Maria. Both of us will then be heading down to the event Friday, planning to arrive in the afternoon. This way I can get the car teched, get registered, and make a few practice starts.
I'm excited to have Maria at the event, acting as my pit crew. She has only been to one other autocross, a local Eugene event, so the fast paced nature of a Pro will be fun for her. She has promised to help me keep my tires cool (if necessary), take photos, and keep track of our the G-Stock class times.
Photos: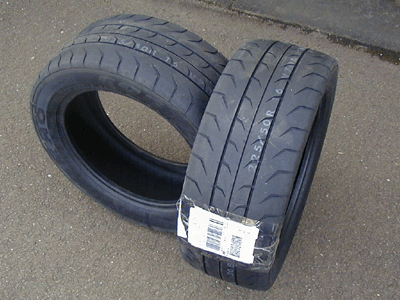 Kumho Ecsta 700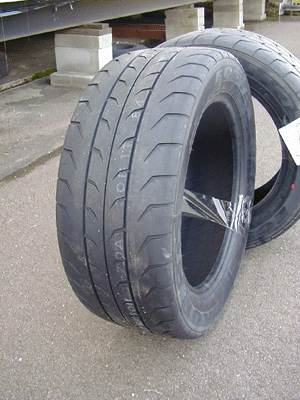 Kumho Ecsta 700